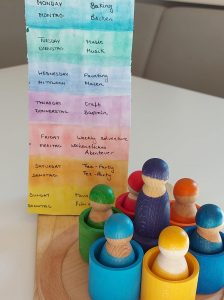 Rhythm, Rhythm, Rhythm
If you have been following us on Social Media for some time you will have noticed that since around September last year we have been focussing on rhythm in the home.
Children from very early on need a Rhythm (routine) whether it's with a new born baby, a toddler or a younger child. It relaxes them, they have stability and they feel safe. Originally I thought the rhythm should be purely focused on wakin –up, feed times and sleeping routines, but was I wrong! Just look at the days, weeks, months and seasons they all have a rhythm, and let's be honest whether we are adults or children rhythm brings us comfort and we feel in control of our environment.
Taking this into consideration I started looking at our daily and weekly rhythm , and started planning out what our routines look like.
Our Daily Rhythm is as follows
Get up
Personal hygiene and changing
Walk the dog
Prepare and eat breakfast (with a candle and an audio book )
Chores (cleaning and laundry)
Outdoor time / free play
Lunch (all together)
Reading corner
Core activity
Outdoor time – play, nature walk etc..
Evening meal (all together)
Bathtime
Bedtime routine
This routine we try and keep to every day!!! We are however flexible and not everything is set in stone and life happens.
Our Weekly routine we put into various categories such as baking, painting, crafting, music, adventures, movie time and tea-party. Each one is a focus point for each day. There are days however that combine a couple, but Emily knows that we will be baking bread on Mondays and music school is on Tuesday etc…. You can build your rhythm to suit your household.
The rhythm that you choose can be changed monthly or seasonally it is completely up to you and completely flexible to fit around your family. Emily is now four and knows the rhythm really well now and it just naturally flows for our family. Other families use songs so the children know that a change of activity is coming up. We are also very flexible with our daily Rhythm and if I see that Emily is completely engrossed in an activity I let her carry on rather than stopping it to move onto something new– just let the Rhythm be your guide.
Consider if rhythm would help your family, I know some families that have reduced temper tantrums and other outbreaks as their children feel comfortable and know what is coming next, or what is happening on that day, and it gives them a sense of peace.
Look at your current week, is there any weekly repetition, for example a sport club activity or music lessons, these days can then be focussed on that particular activity, and you can build your rhythm from there. Please do not forget outdoor time, this is so important for parents and children alike. You can read about the benefits of outdoor time in my previous blog post "The Love of Books and the Great Outdoors"
I would love to hear your feedback if you either use a rhythm for your family or have put one together after reading this post.