Bilingual Books – Why they are useful and not just for Bilingual families #bilingualbooks #learninglanguages
This is just a short post today, but I feel that I had to get it down!
When I started my writing journey it was definitely for a reason – where are all the bilingual books? (in my case in English and German). I know that we are a bilingual family but bilingual books are actually a really useful resource and not just for bilingual families.
Although I was looking for something very specific which got me on my #newauthor road, I was also thinking at the back of my mind, "Why are there not enough bilingual books out there?" There are numerous books about raising bilingual children, bilingual methods etc. but there are very few bilingual books.
Bilingual books are a fabulous resource not just for bilingual families but also for families looking to aid their child in their language learning in general.
So what advantages do I see in bilingual books.
They are great for expanding vocabulary
Whether the books are being read aloud or read together depending on the age of your child/children like reading in general it expands our vocabulary.
Encourages interaction in both the minority (new language) and majority language
If you are not a bilingual family but are homeschooling a specific language or are helping your child through their homework from school then bilingual books definitely offer the opportunity for you to interact in both languages also having fun at the same time. The pronunciation does not need to be perfect and the fact that it is written in both languages also helps parents to understand the wording in the foreign language.
Helps develop understanding in both languages
Through bilingual books we listen/read and this creates a stronger understanding of the words and sentence structures being used.
I feel quite strongly about this resource, so much so that within my blog once a month (starting next week) I will be introducing you to a number of bilingual authors who write in various languages and asking them to state their reasons for writing their books, why they felt this was important and also a little description of their books in order to encourage more families to take a look at these fantastic resources.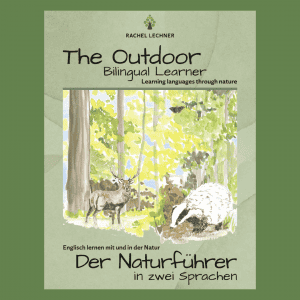 If you are reading this and are a german speaking family, then check out my bilingual book THE OUTDOOR BILINGUAL LEARNER about using nature and the great outdoors for language learning available directly from me via email at englishbookworld@gmx.at or via Amazon.