Using Adventures for Language Learning
First things first! This blog post contains affiliate links from Amazon . If you use them, I might be rewarded credit or a commission of the sale (at no extra cost to you). Please note that I only recommend items that I personally use and love and I always have my readers' best interest at heart.
As you all know if you follow me on Instagram or have read my book, 'The Outdoor Bilingual Learner' (can buy here https://amzn.to/3FaL8ZQ ) you already know that I am a HUGE fan of using nature and the great outdoors for language learning and with that comes using adventures for language learning.
Children, when given the opportunity, love being outdoors in a free play environment and let's face it if we as parents can create a play, educational and making memories setting I know I would be jumping in with both feet.
If you need to get some inspiration for why learning languages outdoors is such a great idea then check out a previous blog post of mine Why Learn Languages in Nature
So Let's Talk Adventures
Now I know not all families are 'outdoorsy' and if an adult thinks about adventures its probably going to be a week long climb up a mountain, but let us take a step back and think what an adventure is for a child. It could be;
A Nature walk
A treasure hunt
A bike ride
Camping in the garden
Buiding a den
Walking the family dog in a new area
The options are endless. What I am trying to say is you do not need to go to great lengths to go on a language learning adventure.
Starting Easy and then expanding
You do not have to go all out from the outset. Have a look at what you and your children enjoy doing the most together. For example it could be cycling.
If you go out regularly together, extend it a little bit and maybe include a picnic along the way and use the picnic to talk about foods in the foreign language – really easy right?
You could then expand it again for a day trip cycling somewhere new and look up the area and route and talk about what you could need on your adventure.
Water bottles
Snacks
Map or Google maps
Compass
Saddle bags
Money
a sitting pad
Use these words for learning new vocabulary and you can repeat them throughout the day. Children learn through repetition and by using the words as a 'living language' and they may also start integrating the words into simple sentences depending on their language level. For example, "Can I have my water bottle please?" or "Turn left here." So many opportunities to introduce languages.
The Big Adventure
So this year Emily and I decided we wanted to go camping with our ponies and the dog!! No problem right. Well I think I packed enough stuff for atleast a week if I look at all the videos I watch on youtube.
We had an absolutely fabulous time and it was a great language learning adventure with lots of vocabulary learnt and some learning curves along the way with regards to camping with animals, namely our ponies Avalon Aces (the pack pony) Coppice Chessman (Emilys fabulous shetland pony) and Coco (our family labrador)!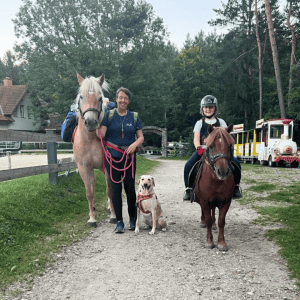 If you want to start your adventures and are not sure about what to take and need, here is a picture of what we packed on our one night adventure, and what we could not have done without. Plus here are some links on things we bought that were fabulous and we also use for mini adventures.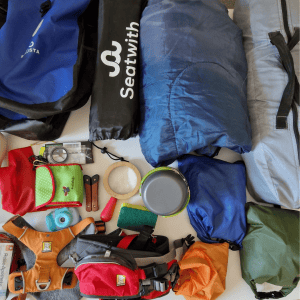 Seatwith hiking sitting pad (you can see we used them to sit on ourside our tent in our blog post picture) https://amzn.to/3LT1JoD
Primus gas for camping cooker (handy in size and perfect for small trips) https://amzn.to/3RMOFVH
Autopkio Camping cooking set (this has been fab. We have cooked chilli, tea, soup and lots more using this small camp cooking set) https://amzn.to/46mc70q
So what are you waiting for? Even though it is now autumn I love this time of year for afternoon adventures in the forest with a warm cuppa brewing on our camping stove. What adventures will you be starting for your language learning time. I would love to hear about them.
Rachel x