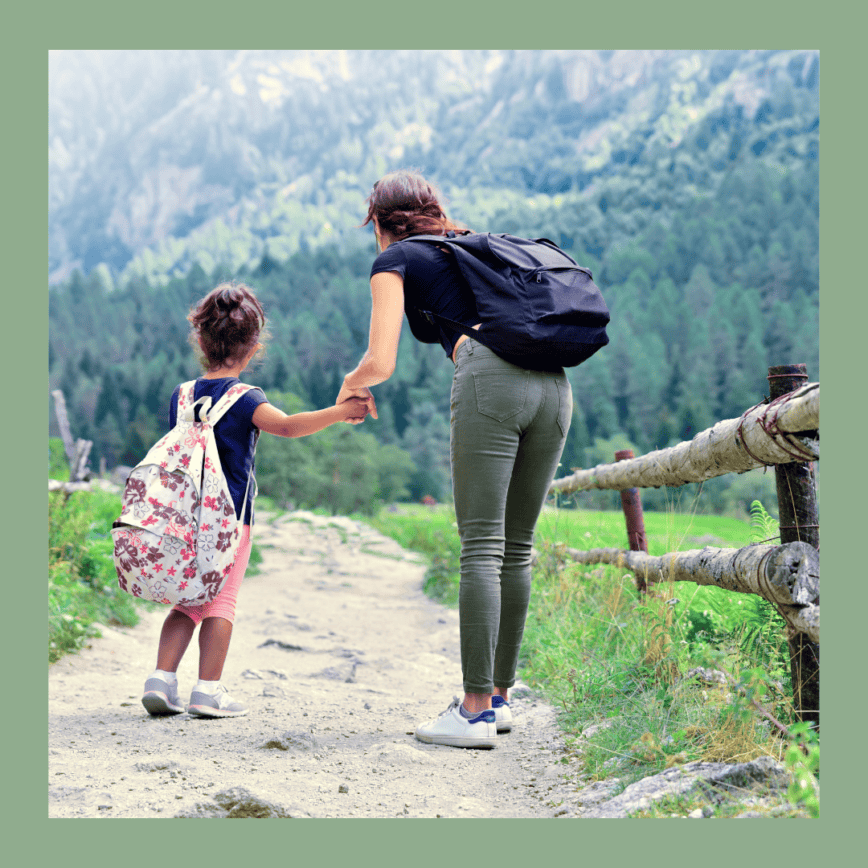 I am extremely passionate about outdoor language learning purely as it helped our family's bilingual journey so much.
The benefits of outdoor learning for you and your child definitely outweigh the disadvantages. Taking that into consideration, have a little read about creating an outdoor language learning routine to help with your family's language learning journey.
Traditional classroom settings may not be the most effective way to master a new language. By incorporating outdoor activities into your language learning routine, you can enhance your child's language skills while enjoying the great outdoors. In this blog post, we will explore some practical tips on how to create an outdoor language learning routine (for me also known as creating a habit!) that is both effective and enjoyable.
1. Choose the Right Outdoor Environment
When I say find the right outdoor environment, that is exactly what I mean.
The area needs to create a relaxing child but also inspire curiosity. To optimise your language learning experience, select an outdoor environment that aligns with your family. For example, if you spend lots of time hiking in the woods then use this environment for your language learning.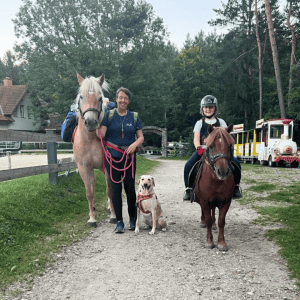 If your child is not into walks etc but is keen to be at the local playground use this area for language learning.
You need to ensure your child is comfortable in their surroundings in order to create a learning habit.
As an exmple we use riding activities and adventures for our language learning environment.
2. Practice Conversations
This is probably one of the most difficult areas for families who are not bilingual or confident in the language that their child is learning.
My response here is 'So What!!' It does not need to be perfect. Please do not think that you have to be fluent or have a complete grip on a language before you try to speak it together with your child. Make mistakes, laugh about them together. It's all part of the process.
Sometimes the fun is all about just trying and learning together. No one is perfect and pronunciation does not need to be like a native, but trying short conversations builds vocabulary and confidence in speaking.
3. Incorporate Language Learning Games
Make your outdoor language learning routine more enjoyable by incorporating language learning games. For example, you can play "I Spy" in your target language, where you and your child describe objects you see in the environment using the language you are learning. This will not only reinforce vocabulary but also encourage you and your child to think in the target language.
4. Document Your Language Learning Journey
Keeping a language learning journal or starting a blog can be a great way to document your progress and reflect on your outdoor language learning experiences. Share your thoughts, challenges, and successes as you navigate through different outdoor activities. This process will not only help you track your improvements but also serve as a valuable resource for others embarking on a similar language learning journey.
Check out my blog post about 'How to Organise Your Language Learning Notebook' for ideas about documenting your journey.
Plus if you are looking to encourage more outdoor time with your child you can also use an outdoor time tracker, for example from 1000 hours outside. This website encourages outdoor time and has a number or ideas etc for outdoor time plus a number of different trackers that can be downloaded. Have a look here for some inspiration.
Conclusion
Creating an outdoor language learning routine can significantly enhance your language learning experience. By selecting the right outdoor environment, practicing conversations with a language partner, incorporating language learning games, and documenting your journey, you can make your language learning process more enjoyable, effective, and memorable. Embrace the outdoors as your and your childs language classroom and unlock the full language learning potential.